Restaurant Management Software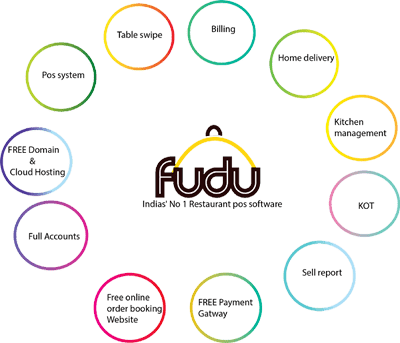 What software is used in restaurants ?
Basically restaurant owners searching easy, multi functionality software.2021 manly demand POS restaurant software . software must be covered One click pos system, Billing , Kot , Table swipe, Product management, Home delivery website ,Kitchen management , Row mortals purchase , Sell report , Cook performance report , Staff report ,Full Accounts .Current time Toast POS , Fudu POS ,sapaad,and maximum restaurants are use .
How much is a pos system for a restaurant ?
Restaurant POs system software price depends on service area and functionality. Many software companies provide monthly subscription type software, price range $70 to $130. Another software company Restaurant POs software costs are a onetime fixed cost that starts at $250. But FUDU POs price very low and All functionality are included and provide free high speed cloud hosting. Price $250, Indian price Rs- 19000.
What is restaurant inventory management?
Inventory meaning list, restaurants' has a many food groups, every group has a many food items, restaurant inventory management system is a uniform list they help us customer order list, billing system, kitchen management, etc.
What are the key features of restaurant management software?
Good quality restaurant management software  key features is –
1.One click pos system, 2.Billing ,3. Kot , 4.Table swipe,5.Product management,6. Home delivery website system, 7.Kitchen management ,8. Row mortals purchase, 9.easy report system, 10.Cook performance report , 11.Staff report ,12.Full Accounts
What is a good free restaurant management software?
Any Software company doesn't provide full restaurant management software for free of cost, every company has a won business policy, normally maximum company provides a 30 day free demo. Global hacker they are copy many software and upload free sores, but maximum time this software not working properly, update not available, developer company take action any time. But have many good software in low price
TouchBistro.
Toast. Toast POS.
Revel. Revel POS.
Clover. Clover POS.
Square For Restaurants. Square For Restaurants POS.
talech. talech POS….
Lavu. Lavu..
What are the benefits of Restaurant Management System?
Restaurant Management System use for time saving , good Restaurant handling, good inventory management , quality billing , custom report , Reduce Costs, perfect accounts , centralize monitoring .
Can I create my own POS system?
Anybody create own POS system as a business requirement .
What is the cheapest POS system?
Fudu POS is the most effective Restaurant POS software in 2021,This software provides all types of restaurant needs.
As well as
• Revel. …
• ShopKeep. …
• Groupon.
Are best software.