14 Best GST Billing Software for Small Business in India
Bill and Invoice main part of Business because without billing we not understand our business scenario. Not max business under GST, for that every month we provide a GST return. every GST register vender must need GST invoice software or GST accounting software. The last 4 years before 10 % of business people used bill software but till time 40% of businessmen use GST software for billing.
Maximum businessman realizes that we have a ready business we bookkeeping and bill manually this ok, because we change our business offline to online this is very problematic. sorry, this is wrong, current time lots of companies developed user-friendly software. GST bill software not only uses billing or GST report, but GST invoice software also provides a full customer and vendor accounts report, Full inventory report (like a stock report ), sell & purchase report, GST report, due & receive payment .full accounts report.
Business means profit & Loss. Without GST accounting software you cannot properly calculate your business.
you wont to practice ,use free GST invoice software. How to gate? you go to Google and type free GST accounting software or lifetime free GST billing software. Then you sow much information. Then you chose signup and use ( this process only online software ). 2nd
same things open Google-type lifetime free GST billing software offline, free GST software download, GST offline software, GST software free download or lifetime free GST billing software. Then sow a result and start GST accounting software free download full version. Then install and use for demo.
Hi friends, I provide a 14 GST software development companies list, they are the best GST software in India.
List of Top 14 Billing and Invoicing Software Available in India
Zoho Invoice
zoho invoice softwarebest gst software in online . zoho invoice have a full gst invoice software . it have a lots of Features. This software provide billing , inventory , Gst , accents . zoho user can create a free accounts for 1 month . Free accounts have a full access .zoho invoice is fully online software . they are services Monday to fry day . zoho invoice system use through verify signup .it have a online payment receive option .
Features


• it have professional invoices & automate payment reminders system.
• It's easy to simply accept all card payments online with the billing software
• You can record all type of payment received
• you can edit the invoice and update .
• You can manage online payment receive and refund .
• Helps create a recurring expense profile to avoid monotonous tasks
• You can keep track of your expenses through this software . it is very use fell for track your expense.
Pros:
• It is fast and versatile
• It is straightforward to use interface
• this is Value for money
• it Provides tools for recurring invoices, customization invoice/email templates, reports and reminders.
• Newly Provides a mobile app version, for that you can use all time your business.
QuickBooks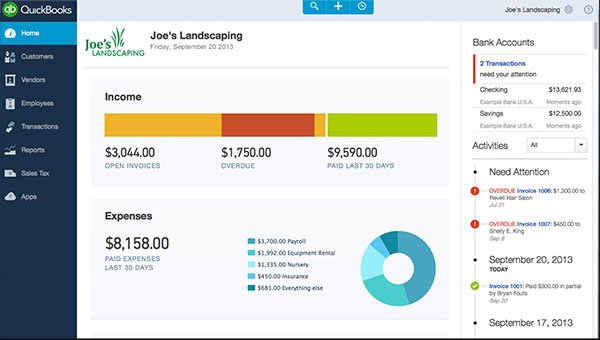 quick book is the best online software it help us full booking , billing and GST filing . it have many futures . last one year it software is very popular for online world . now I tell you full features of Quick book .

Cloud Accounting – Manage your business accounts anywhere and anytime . you access mobile & tab both .

Invoicing – quick book provide a full customize invoicing template. Few of second you create a new invoice .
Online Banking – quick book provide a online banking integration system .for that automatically update all payment and received your bank .

Accounting Reports – quick book provide a customize accenting report . it have a many report format ,you choose and update
Cash Flow Management – Enter bills from vendors, and pay them only they're due. Schedule recurring payments to save lots of time.
Time Tracking – quick book have a full time management .

Mobile Apps – quick book provide a mobile app for all user . you use anywhere through mobile and tablet .
Multiple Users – quickbook software have a multiple user creation system and user wise permission creation .
Free unlimited support – quick book provide a unlimited support . it have a most helpful CRM system .
HyperDrive HDPOS Smart
HyperDrive HDPOS Smart products are designed to form your life easier. This is is a pos software . it have a loots of tools . you can use for your store management . it have a sell , purchase , tax, accounts , supplier , employ , customer . it have a barcode sticker print . this software very first. This software 99.99% uptime .
Quick Billing – quick book provide a easy billing system .it have a barcode system, you scan the barcode your produced details auto update in your bill .
Multiple Payment Modes – you Accept all payments including cash, check , dabit card , credit card , gift card .upi , ptm . it have link most powerful payment gateway .
Manage Exchange – it have a return and exchange system .you easily return your old proudest. This is auto adjust your inventory and accounts .
Auto Offersn – it have a schemes management billing system .
Tax – it have a full tax salutation and report system .
Inventory management – it have full inventory management system .
SMS / Email – Auto sms and email for customer. Like Due recipe sms , payment reminder sms.
Marg ERP 9 +
marg is a full gst accounting software. It use to manly medical shop. It have a gst filing system . this software auto generated gst return . it have a full inventory , accounts , invoicing system .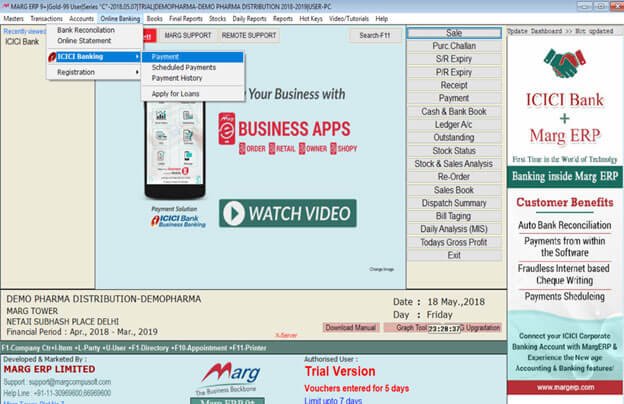 Features –
Invoicing – it have good customize billing system .this software very user friendly .
Inventory – it have full inventory management system . like category, size , no, color ,wise product report .
Accounts – Marg is a erp software it have a full futures of accounts .like , cash book , cash accounts , Léger etc.
GST – Marg have full auto generated gst report 3b , GSTR 1, erc.
This software auto generated ready in your sell , purchase. Marg support pus gst system for direct gst return submission .
Support – it have 8500 staff for support .
Tally.ERP 9
Tally is the no1 accounting software .last few years tally provide a good service in accounts industry. Tally is offline and online both software. Tallys' have a auto GST report generation system and pus GST system.
Lots of CA use Tally for accounts managements. Many company use tally. Tally is not a normal software ,without knowledge you cannot use tally .tally have a good inventory system .tally have a normal billing system , you crate bill normally . .
Features –
Provision to generate e-Way Bill with the Common Enrolment Number of Transporter
Tally supports the latest e-Way Bill template
Incorporates all income tax changes in the Budget for FY 19-20
Pros:
Auto GST input adjustment.
User-friendly setup system .any problem help customer care .
It is cost-effective software. but till date many company provide good accenting software in low cost.
It's provide one software 4 services. Invoicing, inventory , Accounts , GST
It is user-friendly.
Cons:
Any problem contact helpline .
FreshBooks
fresh book is a nice software for small business . last few years they provide a best services .it is very high speed software . its provide global security for data management. Its have a user-friendly billing system . one click you create a bill . till time customer are prefer printout bill copy. It is free billing software .
Few of minutes you create a proposal invoice.
Online payment receive
Auto payment reminder on due date.
Full sell report
Fell purchase report
All vender report
All payment report
All due report
Gst Report
Billbooks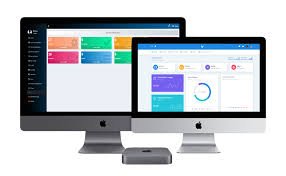 Billbooks gives a super aggregate of efficiency, speed and useful functions to help customers spend much less time billing. With this billing & invoicing software, you can create & ship invoices in 50 seconds. Aside from invoicing, this answer comes with modules for file generation, purchaser management.
To sync with modern rapid paced lifestyle, get a dashboard that quickly offers you a simple image of your business and today's activities.
Sales, receipts and expenses
Analyse by way of time period
Client accounts & receivables
Overdue invoices
Create and send invoices in seconds. Know when your consumer perspectives them, and set auto fee reminders till paid.

Smart auto-complete
Select client contact
Configure bill columns
Auto bill numbering
Auto reminders
Get invoice establishing alerts
Create habitual invoices
Track bills history
Use purchase order numbers
Item numbers and SKUs
Discount and shipping
Attach files
Set terms & conditions
Set taxes
Invoice history
Create and send estimates in seconds. Quickly duplicate similar charges and get on line approvals before converting to invoices.

Configure labels and titles
Configure estimate columns
Select patron contact
Set estimate expiry date
Get estimate opening alerts
Convert to invoices
Approve or reject online
Duplicate, print, download
View history
Create notes
Search with auto-entire or sort customers alphabetically. Differentiate between lively and inactive customers.

Search auto-whole
Add multiple consumer contacts
Shipping address
Sort alphabetically
Import and export data
View outstandings account balances
Add and manage prices in seconds. Calculate undertaking profitability the use of one time and recurring costs.

Create an rate in seconds
Expense categories
Set costs for clients
Billed and unbilled costs
Recurring prices
Create notes
Attach files
Reporting
Managing objects and inventory is greater simplified than ever. Get low inventory indicators and quick reports on item sales to make vital enterprise decisions.

Create objects in seconds
Smart search
Import and export data
Pre-outline taxes
Add SKUs
Track stock
Vyapar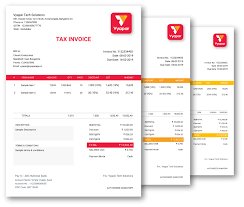 It is billing & invoicing software which is effortlessly customisable and scalable. With Vyapar, agencies can generate custom designed expert invoices for his or her customers. Additionally, it has modules for invoicing, inventory control, file generation, order control and secure records backup.
Features
Send Estimates & Quotations

Create estimates and quotations without problems with this unfastened GST accounting software program. Estimates and Quotations created the use of this GST billing software are not simply accurate, but instantaneous as well. Now, proportion detailed costs and taxes with your clients in a few clicks. Unlike other loose GST invoice ebook apps, Vyapar's free billing app helps you to convert your estimate into a invoice in only one-click. Vyapar GST Billing Software makes your enterprise look extremely good expert and guarantees your customers keep coming back. So, what are you ready for? Start growing estimates, quotations and GST invoice with this loose billing software for mobile.
Track Sale and Purchase Orders
Vyapar's GST cellular billing app helps you to create and music sale/buy orders end-to-end. Get well timed reminders to dispatch and near deals with out troubles. Fulfil all your orders effortlessly using this billing and accounting software program. Generate bills in a single-click in your orders with this free billing software. What's more, Vyapar presents you with more than one GST sale order and buy order codecs to pick out from. This GST software for accounting allows you save quite a few time and permits you to attention on developing your business. Start the usage of this loose billing software program and do your business accounting effortlessly.
Choose Different Invoice Themes
Make a very good affect on your clients through sending professional invoices. Choose from 10+ GST billing codecs which includes Tally topics from this GST tax invoice software. Increase believe with your customers with stunning payments generated by Vyapar's billing and accounting software. We will hold adding themes once in a while to provide you with more choices. This GST software program for accounting offers you with GST bill codecs and Proforma Invoice codecs specialized for your enterprise needs. Our clients use Vyapar's satisfactory loose billing software program for retail shops, scientific shops, pharmaceutical commercial enterprise, restaurants, gyms, distribution, buying and selling and more such businesses.
Record All Expenses
A suitable cost management device offers you better manage of your company's finances. Vyapar has an expense management system built-in, which makes it the best billing and accounting software. You can create different fee categories and manipulate your expenses well. Vyapar's free GST bill app allows you enter charges with GST format, that may be used for claiming the enter tax credit. Get a effective set of reports on this free billing software like fee transaction report, expense category document and expense item file to have a detailed view of your fees. By recording fees using this GST software for accounting, you could optimize your commercial enterprise expenditure and save money. What's more, it will save you a number of time at some stage in tax filing.
Manage Receivables and Payables
It's great that your enterprise has made a sale, but no longer so incredible in case you haven't accumulated the money for it yet. This hugely affects your coins flow. Keep track of the overall cash you need to obtain and the total money you need to pay the usage of this free billing and accounting software. You can preserve your cashbook whole and correct and find out from whom you have to receive payment in a click. Once you've finished it, set price reminders to accumulate price from customers on time. Keep your attention on billing and stock control and let Vyapar manage your receivables and payables. Your ledger account e-book is automatically generated based on the transactions entered. Download GST billing software program unfastened of fee and grow your enterprise faster.
Create Delivery Challan
A transport challan is necessary while you are transporting items and the transaction isn't always treated as supply under GST. In different words, the products transported may additionally or won't bring about sales. Create transport challans and attach them with your consignment the usage of this GST app. Ensure that your goods have reached the purchaser safely. Not all your goods are accepted by clients and some are back too. Get to understand what is customary and what isn't always. Convert your shipping challans into bills and share without problems along with your customers and parties the usage of this free billing software program. Also, keep shipping acknowledgement records to look which items are commonplace and which are lower back. Run your complete enterprise with this GST accounting software program loose to download.
Invoicely
Features
Effortless Invoicing
Send Unlimited Invoices, For Free

Stay organized and take control of your invoicing and accounting wishes with ease — invoicely lets you ship limitless invoices for free, at any account level.

Recurring Invoicing
Save time & attempt and get paid faster with recurring invoice profiles, and send automatic fee reminders to stable a consistent cashflow for your enterprise.

From Estimate To Invoice
Create and ship professional looking estimates and — as soon as accepted by using your client — convert them into invoices at the click of a button.

View And Send Account Statements
Dynamically generated account statements are a fantastic reference of all past transactions among your business and a specific vendor or client — view and ship them at any time

Customize Your Invoices
Make your logo stand proud of the rest by way of including your character emblem to invoices and estimates, to go along with the branding colors particular to your enterprise.
Accept Online Payments
Receive instantaneous online invoice payments from anywhere, any customer and in any currency across the world — clients can pay at once on your bill.
Track Time, Expenses & Mileage

Turn hours, miles and prices into invoices and payments at the press of a button and make certain you are pretty compensated for the paintings your commercial enterprise does.
Make Your Brand Stick Out

Make invoicely your personal by using adjusting each bit and piece of your control panel, log-in screens and statements to a layout and color scheme specific in your business.
Manage Multiple Businesses

Do you have multiple companies with man or woman team members and clients? You're in the proper place — setting up multiple groups has in no way been this simple.
Your Finances In One Place

Stay on target with your finances with dynamically generated reports, month-to-month and every year statements, income and expenditure summaries and debts receivable and payable
Sleek Bill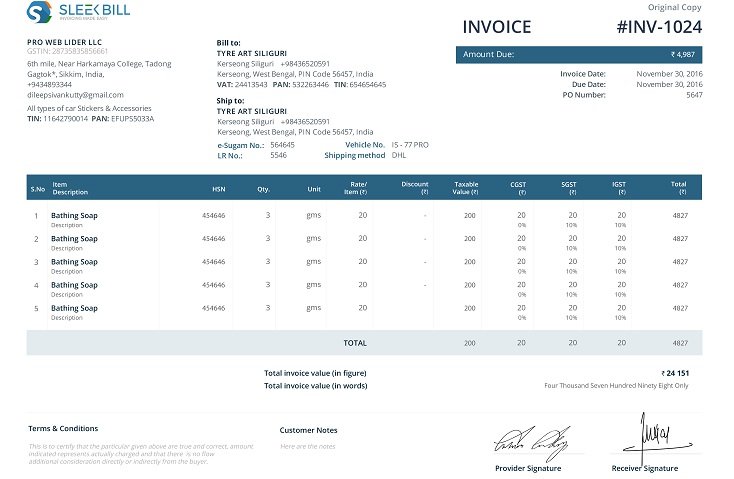 The concept behind Sleek Bill Online is that irrespective of the size of your business, being perceived as professional, able and organized is paramount. We've blended our 9+ years revel in in developing billing software as a way to create Sleek Bill and provide you with the fine user enjoy in solving your invoicing related needs.
Features
PROFORMA INVOICE MAKER

Commit to providing your quality services or products to your buyer, with the proforma bill
alternative in Sleek Bill.

QUOTATION SOFTWARE

Don't waste a commercial enterprise opportunity, create a quote for your clients directly from your tablet, even when you're not within the office.

GST TAX INVOICE

Sleek Bill Online helps you trouble GST invoices with all the accurate fields for claiming tax credit score.

COMPOSITION SCHEME SUPPORT

Sleek Bill Online now has has full assist for billing, for any enterprise that falls underneath the composition scheme.

COMPOSITION SCHEME SUPPORT

Sleek Bill Online now has has full help for billing, for any enterprise that falls beneath the composition scheme.

GST INTEGRATED & COMPLIANT

Sleek Bill Online is the fine GST billing software, with help for GSTIN, GST tax bill, bill of
supply, HSN columns, GST tax quotes and more!

PURCHASE ORDERS, BILLS AND EXPENSES

Create buy orders and flip them to bills, add stock straight from bills, hold song of your expenses
which include payroll, utilities and much more.

GENERATE INVENTORY REPORTS

Sleek Bill allows you generates reviews including inventory in hand, sales by means of product/service, value of goods bought or In&Out; report.

GST CREDIT / DEBIT NOTE

Issue credit score notes towards any invoice every time wished and without difficulty use credits in your invoices.
Debit notes feature becomes to be had soon.
Just Billing Free GST Billing Software
Just Billing is an easy to apply and complete GST Invoicing & Billing App for Retail and Restaurant. It runs both on mobile and computer. This GST compliant point of sale (POS) makes it simpler for you to hold tune of your enterprise and pay extra significance to your commercial enterprise growth.
Surveys show that the billing structures are speedy changing the cash drawers. Unlike cash drawers, the billing systems has the choice of maintaining your stock, retaining a tab in your employees, offer patron loyalty and do extra similarly to billing. Furthermore, it also helps in reducing the value of retaining your business.
Just Billing GST Software helps you to easily generate invoices, run purchaser loyalty program, manage and screen sales, procurement activities, optimize inventory, control accounts, taxes and reports at the store stage or consolidated analysis on the cloud back office anytime. Look present day and marvel your consumer by means of sending invoice the usage of SMS.
Features
Increase profit
Increase revenue and optimize cost via strategic reports everywhere anytime.

Save time
Manage queue with quicker billing, auto-stock & account update, no guide attempt required.

Enhanced enterprise image
Groom your commercial enterprise with latest technology, ship SMS/Email invoice.

More organized
Tap to bill, auto-replace the inventory and accounts, and live organized.

More customers
Offer patron loyalty and discounts to boom the purchaser base.

Prevent misuse
Auto-updating feature of stock & accounting prevent misuse of substances and theft.

Accuracy
Say good-bye to human errors with automated billing, discounts & complex GST calculations.

Reconciliation
Automated reconciliation of sales, purchase, stock, payments and GST.
Hitech BillSoft Free Billing Software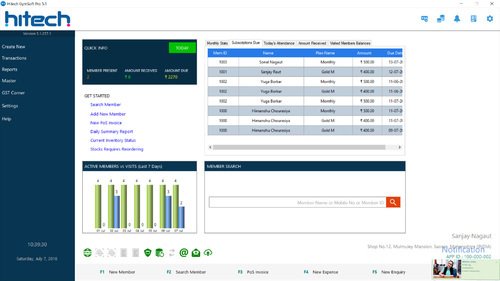 Hitech BillSoft facilitates you in becoming
GST compliant.

Goods and Services Tax is a comprehensive tax levied on supply of goods and services throughout India. GST is a destination primarily based intake tax, and the taxable occasion is supply as against the present taxable events of sale, manufacture or provision of service.
Features
Sale Management
Our billing software facilitates in coping with sales better and will increase normal efficiency. Now manage from NonGST / GST invoices to multi-charge invoices, credit score sales to cash income, sales commission to multi-size invoices at a click.

Purchase Management
Hitech BillSoft helps in dealing with inventory buy and provider accounts. Now manage from buy payments to buy returns, dealer ledgers to payments, buy analysis to inventory analysis at a click.

Goods and Service Tax
Our billing software is 100% GST compatible and generate various varieties of GSTR reviews like GSTR-1, GSTR-3B and like minded reviews for auditor. Supports multi-price invoices and purchase bills.

Inventory Management
Hitech BillSoft helps in preserving tab on inventory and informs approximately low stock, availability, items not selling, rapid moving items and fee profit analysis. Multiple stock reports for taking informed decisions.

Client Management
Our billing software program brings everything associated with a client on unmarried dashboard where you may set credit limit, generate charge receipts, adjust accounts, generate invoices, set cheque alerts, and plenty of more.

Staff Management
Hitech BillSoft comes with India's most superior team of workers management module having built-in fingerprint / biometric based totally completely computerized attendance system. Generate salary based totally on attendance and sales commissions. Manual attendance additionally supported.

Multi-size Invoices
Our billing software supports a couple of kinds of invoice print sizes like A4, A5, and PoS receipts. Our Dual Channel Priting Engine lets in to generate invoices at the price 2 according to second (with preview) and 10 in line with second (with out preview).

Barcode Read / Write
Hitech BillSoft is able to generating barcode in a couple of sizes and generated barcodes can be auto-saved. All plug n play barcode scanners are supported for faster billing. Our advanced alogrithms can automatically detect maximum of the scanners.

SMS / Email
Our billing software program comes with built-in advanced SMS Server (Queue Enabled) having burst fee up to 50 SMS consistent with second. Most of the SMS API's and Email Gateway's are supported.

Data Management

Our billing software comes with advanced information control tools which continues your facts secure and might take backup automatically (2 backup locations supported). Now no need to consider about taking backups.

Android App

Hitech BillSoft allows you to preserve tab on your business activities whilst on the move the use of our Android App. Get monthly and each day income, payments, buy, expense, and body of workers attendance figures for your smartphone.
Indias' #1 online GST billing software

Billing customers, at times, is pretty a hassle. And not to mention, it's time-consuming. Moreover, a fundamental errors can flip as much as be high-priced for the commercial enterprise. While there do exist many software answers out there for retail billing, most of them commonly fall short to meet the awesome desires of the business owners. Here, at Technoservices, we're striving to fill this marketplace gap. And it is this commitment that has made us a leading GST accounting software development organisation primarily based out of West Bengal. We don't just offer software; we provide a collection that assures to deliver on all of your billing requirements.

So, if you're searching for superb GST invoice software improvement in India at cheap cost, take the palms of Technoservices.
Our Products

At Technoservices, we home a number of the high-quality and brightest developers and professionals that allow our logo to convey out the satisfactory. Since inception, we have worked with thousands of business owners throughout India, touting 100 percent client satisfaction rate. Our GST invoice software program is a high-quality combination of sophisticated capabilities and intuitive interface that combine to make a effective solution. It packs a wide range of capabilities, assuring to have all your necessities met underneath a single roof. They are also provide free GST billing software for small busyness.
Technoservices' GST software is the best GST software in India.
It includes capabilities like:

Financial year introduction
Product advent
Vendor introduction
Customer advent
Barcode advent and printing
Investing, purchase, payment entries
GST report
Inventory management
Wholesale and retail billing
Vendor report
Customer report
Purchase report
Sale report
Waste report
Full money owed management
Customer SMS management
Gogst bill
Good GST Billing Software for Small & Medium Business

GST Invoices
Our all documents are fantastically designed & compliant with GST regulations and regulations.

Product & Stock
With GoGSTBill you could effortlessly create unlimited products & manipulate all stock with one click.

Proforma & Quotation
Create GST compliant Quotation & Proforma Invoice with our extremely clean interface.

Credit/Debit Note
Create credit & debit notes towards any bill With accurate templates and expert design.

Payment Recipt
Record & music payments for invoices created in the system & take print out with one click.

Expenses Tracking
Log & hold music of your fees with custom created categories as in keeping with your business.

A5 Print
Print your bill on extraordinary paper length as consistent with your want full web page or 1/2 web page

Invoice Template
Ready to use invoice template simply select invoice design which you like & it's geared up to print

Emails
Send you bill, quotation or any other document on email with simply few clicks

Simple Report
Go GST Bill permits you to generates reports consisting of Company Ledger, Product & Sales Report.

Easy Export
You can easily export your information like customer, product & invoice to excel sheet with one click.

Free Support
Our wonderful help group will help you to remedy any query realted to our software.